Paperless Recorder Monarch DataChart 1200 Series
Programming Features:
Menu selectable via membrane keypad. Scaleable ranges up to + four digits.
Selectable input functions include: average, peak, valley or normal sampling.
Engineering units - up to 3 characters alphanumeric.
Program for normal or alarm/event triggered recording mode.
User selectable password protection.
Recording rates range from 100 samples per second to 1 sample every 10 minutes.
Paperless Recorder Monarch DataChart 1200 Series

Alarms:
4 alarm set points.
Independent dead bands
2 alarm contact outputs.
Latching or non-latching
Paperless Recorders DataChart 1200 Series Data Storage:
PCMCIA SRAM memory card up to 1 Mbyte.
Internal 16K RAM recording buffer
Search data files by signal value or alarms.
Transfer data files to IBM compatible PC's via serial communication port or external card reader
Data files for 2 channels including alarms and configuration files.
Customize file names for each recording session.
Review historical information while recording in real time
Paperless Recorder Monarch DataChart 1200 Series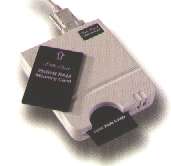 Recorder Control:

The following control functions can be selected via digital inputs or internal alarms.
- Record on/off.
- Record/display rate
Paperless Recorders Monarch DataChart 1200 Series
Communications:
RS232 bi-directional.
Modem support.
Real time data and data file transfer to IBM compatible PC's.

For Quick Delivery From Stock Call
CANADA & USA TOLL FREE: 1 - 800 - 279-9912