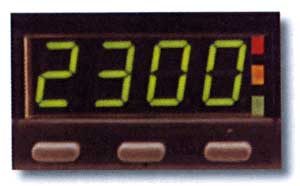 The FuzyPro 2300 Indicator Controller is available as either an indicator or controller. Small size does not come at the expense of features, they have large 10mm high displays, 2 amp relays and full 3-wire PT100 inputs. The controller features our hand-free Easy Tune PID algorithm.

• Red or Green Display
• 3-Wire PT100 or T/C
• Two process alarms
• Manual or Easy Tune
• Setpoint Lock
• On Control Indicator
• RS485 communications
• 0.1% Accuracy

FuzyPro 2300 1/32 DIN Indicator & Controller Technical Data
Features
Functions
Three term PID controller, indicator with alarms or indicator only versions available.

Control Types
Controller versions have PID with Easy-tune, manual tuning plus pre-tune or On/Off control.

Setpoint Lock
Limits operator access to the controller setpoint value.

Output Configuration
Up to 3 Total. Max 1 for control, Max 2 for Alarms.

Alarm 1 & 2 Types
Process high, process low, setpoint deviation and band.

Human Interface
3 button operation, 4 digit 10mm high LED display (available in either red or green), plus on-control, setup, alarm and setpoint indicators.

Dual Setpoint Selection
Front panel selection of SP1 and SP2 on controller versions.

FuzyPro 2300 1/32 DIN Indicator & Controller Input
Thermocouple
J, K, R, S, T, B, & N

RTD
3 Wire PT100, 50W per lead maximum (balanced).

DC Linear
0-20mA, 4-20mA, 0-50mV, 10-50mV. Scalable -1999 to 9999, decimal point as required.

Impedance
>10MW for Thermocouple and mV ranges, 4.7W for mA ranges.

Accuracy
+/- 0.1% of input span (0.25% for J & T T/C) +/- 1 LSD (T/C CJC better than 0.7°C).

Sampling
4 per second, 14 bit resolution approximately.

Sensor Break Detection
<2 seconds (except on 0-20mA range), control O/P's turn off, high alarms activate for T/C and mV ranges, low alarms activate for RTD, mA ranges.

FuzyPro 2300 1/32 DIN Indicator & Controller Outputs & Options
Control & Alarm Relays
Contacts SPDT 2 Amp resistive at 240V AC, >500,000 operations.
(if communications or 2nd relay is fitted, all relay contacts become SPST)

Control SSR Outputs
Drive capability >10V DC into 500W minimum.

Communications
2 Wire RS485, 1200 to 9600 Baud, MODBUS.

FuzyPro 2300 1/32 DIN Indicator & Controller Operating & Environmental
Temperature & RH
0 to 55°C (-20 to 80°C storage), 20% to 95%RH non-condensing.

Power Supply
90 to 264V 50/60Hz (optional 12 to 24V AC/12 to 30V DC), approx. 4 Watts.

Front Panel Protection
IEC IP66 (Behind panel protection is IP20).

Approvals and Certification
CE, UL & ULc.