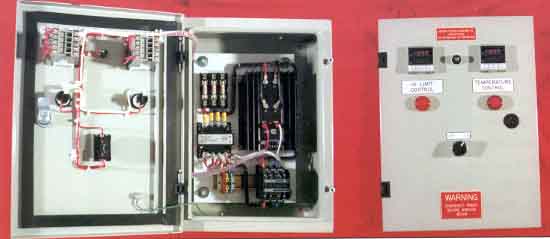 Custom Control Panels for a wide variety of applications are manufactured by Heaters Controls And Sensors. From Custom Control Panels that are needed to operate in 60ºC environments, to laboratory controllers that are to maintain temperatures within +/- 0.01ºC.
These Custom Control Panels could be made to withstand washdowns with corrosive chemicals with all components on the panel conforming to IP 65 and NEMA 4X. Integration of components for steam booster heaters or recirculation heaters with flow fail safe interlocks are also available.
Applications include temperature controls with Hi temperature fail-safe alarms (FM approved) Loop break alarms, Heater break alarms, heater Current Indication and Shorted Output Device (contactor) alarms or annunciation.


Custom Control Panels Features:

• Quick delivery
• State-of-the-art technology and engineering
• Integration of temperature, level, pressure, motor and motion control
• Hydro Approved and CSA or C UL components used throughout
• NEMA 4X, NEMA 4 and NEMA 7 explosion proof panels available
• Versatile precision LAB control, plant process or plant system engineering
• Easy adaptation to existing plant switch gear or specification
Custom Control Panels Ordering Information:
Type of POWER Control
SCR = SCR Power Controller
MDR = Mercury Relay
MEC = Mechanic Relay

VOLTAGE
1=120 volts, 2=208/240, 3=370/380, 4 = 460/480, 6=575/600

PHASE
S = Single T = Three

ENCLOSURE NEMA Rating
01 = General Purpose NEMA 1
3R = NEMA 3R Weather Resistant
04 = Moisture Resistant NEMA 4
4X = Corrosion/Moisture Resistant NEMA 4X
47 = Moisture/Explosion Proof NEMA 4/7
07 = Explosion Resistant NEMA 7
12 = Dust and Oil Resistant NEMA 12

Size of TEMPERATURE
6 =1/16 DIN, 8=1/8 DIN, 4=1/4 DIN, 3=32 DIN

Type of INPUT/SENSOR
R=RTD, 4=4 TO 20 Amps, 1= 1 to 5 VDC, X=Special

Thermocouples specify J,K,R,S,T,E,N

MAXIMUM SYSTEM kW System Power

Type of HI LIMIT
D = Digital Hi Limit FM Approved
A = Analog Hi Limit Back Panel Mount

ALARMS
H = Aux. Hi Alarm (Deviation or Process) with Mechanical Relay Fail Safe
B = Heater Break Alarm
L = Loop Break Alarm